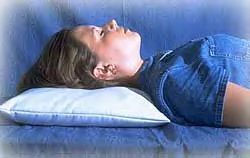 Buckwheat Hull Pillows have been used for centuries in the Orient to ensure a restful sleep.

Unlike traditional pillows, which compress when you lay on them, the buckwheat hulls are dense and remain firm.

The flexible hulls enable you to adjust the pillow to conform to the shape of your head, neck, and shoulders, providing the exact comfort and support you need.




Buckwheat Hull Pillows provide the ultimate luxury in bed, travel and neck pillows. They are know for providing a high level of sleeping comfort by supplying proper support of the head and neck when sleeping or relaxing.
Buckwheat Hull Pillows:
Provide a similar type of shaping to your body that the memoryfoam does.
Easily mold into a perfect shape under your body, minimizing stress and tension, providing optimum support and more comfortable sleep.
Buckwheat hull pillows are an excellent choice for those afflicted with allergies and a definite substitute for traditional down pillows, which have been known to cause allergy problems for many people.
Have been used traditionally in Japan for centuries to ensure a restful, healthy sleep.
A unique and natural filling that allows for air circulation and ease of motion.
Environmentally friendly
Our pillows have a zippered opening, allowing people to add or remove buckwheat hulls as needed. You can expect to get a good 10 to 15 years of use from your buckwheat pillow.

Buckwheat is a fast-growing, warm-season, succulent, broad-leaved annual attaining a height of 2 to 4 feet is related to rhubarb. It is grown primarily for the seeds, which are ground into flour and used in buckwheat cakes. It can be cooked in the way rice is cooked, or it is milled to make four, which can then be used to bake a variety of things.

---

More Information on Buckwheat

Flaxseed Pillow for your eyes and Buckwheat Pillow for your neck makes for a perfect night's sleep.